MUSIC
MUSIC has always been important to believers...
and in this ministry the leadership has purposed to use only music that exalts the Lord and focuses hearts on Him. Grace Bible Church adheres to the old hymns of the faith and Gospel songs which emphasize the Gospel message and Christ's work for sinners. We do not perform contemporary Christian music and "Christian" rock.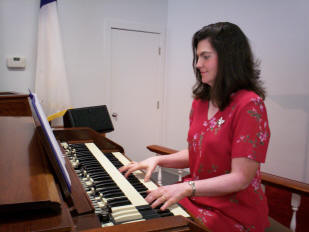 The church choir meets for practice at 6:30 each Wednesday. In the morning service, the choir sings an opening song and accompanies the congregation; specials are performed about once a month. Listed in the Constitution of Grace Bible Church are standards which have to be met in order to be in the choir - hair, dress, and moral standards. Also to sing a solo or to be a part of group specials, either vocal or instrumental, one has to be a member of the choir.
The children's choir meets for practice at 5:30 each Sunday evening under the direction of Mr. Howard Woods. The youngest children are in K-5 and the oldest are Ninth Grade. They also perform about once a month.
Grace Bible Church has also recently begun a Church Orchestra. Instruments include trumpet, trombone, euphonium, and clarinet. Pastor Brainard directs the orchestra as well as the choir.